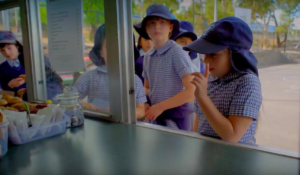 Our School Canteen is aimed at providing a range of healthy food options for our children in line with the National Healthy School Canteen Guidelines of the GREEN, AMBER and RED food categories.
Our School Canteen is open for Lunch orders and morning recess snacks on Wednesdays and Fridays.
On Wednesdays and Fridays during lunch and recess, the children can go along to the Canteen Window to purchase any snacks from the menu.
Volunteering at the School Canteen
The School Canteen warmly welcomes volunteers to become involved.
Contact details | Jennifer Polakovic, Tastebuds Kitchen
Mobile: 0407 877 589 |  Email:  jenpolakovic@gmail.com
School Canteen Brochure
School Canteen Menu and Price List
Online ordering instructions